12 Volt Programmable Timer Switch
Automatic
24 hour timer switches
for 240 Volt mains electricity are very easy to find and are very cheap - prices start at just 99 pence! With such a timer (see image below) it is possible to set the times a plugged in device (typically a lamp - but also fans, pumps, irrigation systems, and other appliances) will
switch on and off
through a 12- or 24-hour period.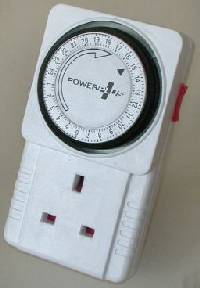 Unfortunately equivalent
programmable timers
for
12 Volt
applications are not so easy to come by, and those that are available tend to be very expensive since they are not so mass produced. In this article we will introduce a couple of the better
12 Volt Timers
available as well as looking into how you can
make your own timer
.
Flexcharge 8-Event Programmable 12 Volt Timer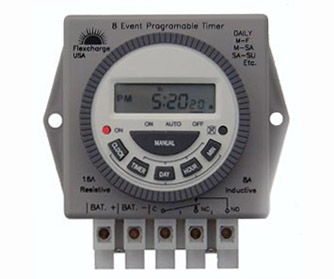 Pictured above is a
digital 12 Volt programmable timer
manufactured in the USA by
Flexcharge
. Costing around US$85, this is a 7-day timer which can be programmed with up to 8 on (and 8 off) events per 12 hour period. An internal battery is included which will stored programming data for up to 3 months without external power.
DT-01 Digital 12 Volt Timer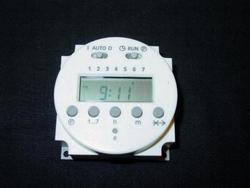 Pictured above is the
DT-01 Digital 12 Volt Programmable Timer
- available in USA for around
US$65
. Typically used in automatic fish feeders (see
super-feed.com
for details), this timer provides up to 8 on and off cycles per day individually settable for the seven days of the week.
The internal lithium battery will retain programmed timings for up to five years when disconnected from the main 12 Volt battery, and the incorporated
relay
is rated at up to
16 Amps
meaning this timer can be used to switch on and off up to 200 Watts of devices.
90-124uA are drawn by the timer when it is switched off (i.e. just 90 one-millionths of an Amp), and 33-49mA (i.e. 33 one-thousands of an Amp) when the
relay
is energized.
Click here for the
DT-01 Specification Sheet
.
Use a Programmable Thermostat as a Timer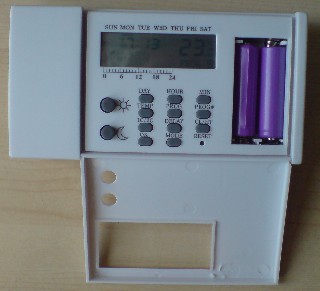 An affordable alternative to the dedicated
12 Volt timer
discussed above is a
programmable thermostat
. These battery-powered devices can easily be converted to run from
solar power
, or from the
battery bank
of a renewable system (via a
voltage regulator
).
These
thermostats
contain a built-in
relay
which can be used to switch 12V DC and 240V AC devices on/off according to the times programmed in by the user. Used good quality units are available for as little as £10.00, and new Chinese imports start at around the same price.
Click here to read our
Use Thermostat as 12 Volt Timer
article.
Make a 12 Volt 24 Hour Timer Circuit
Since commercial 12-Volt powered timers are so expensive, it is worth investigating putting one together yourself using easy to obtain
electronic components
.
Click here to view
Two Simple 24-Hour Timer Circuit Schematics
. These simple timers use a
CMOS 4060
integrated circuit as a counter providing reliable 24 hour operation. See image below: